The Red Sox will be sending a Mexican League veteran to the mound tonight against an A's starter with a surprising history of Overs. Get analysis on today's games as well as tips on weather, umpires, and other betting trends with our daily MLB Line Drive. **video

Double-Play Picks

Philadelphia Phillies at Texas Rangers (-145, 10)

If it ain't broke, don't fix it. We've been riding the Rangers all week and they've been punishing the Phillies in this interleague series. Today should be no different as the Phils will just be looking to get the heck out of Arlington on getaway day.

The Rangers have now won eight in a row and are looking to complete a very impressive sweep of their current eight-game home-stand (Padres, Athletics, Phillies). Texas will send Martin Perez to the mound. Perez hasn't been great, but he's coming off a nice 6.1 inning, 2 earned run performance against the Padres in his last start. If he puts up anything close to that today, it'll be another winning day for the Rangers.

The struggling Phillies have lost 14 of their last 17 games overall and are only 2-10 in their last 12 on the road. They will send youngster Nick Pivetta to the hill and the Phillies have never won a game started by the kid. Pivetta owns an 0-3 Team Win/Loss Record, a nice (for fading purposes) chubby ERA of 6.14, and an Opponent On Base Percentage of .414. Not good...obviously.

Pick: Rangers -145

Boston Red Sox at Oakland Athletics (-110, 9)

Tonight's game in Oakland between the A's and the Boston Red Sox will feature a dynamic young starter (possibly showcasing for a trade to a better situation) taking on a veteran arm making his Major League debut.

Sonny Gray is the first name on everyone's mind when the topic of trade deadline arms comes up. He will make his fourth start of the season, and the first three have not exactly been dominant. His ERA is mediocre at 3.78 and he simply isn't missing bats with only nine strikeouts in those three outings. The Over has cashed in all three of Gray's 2017 starts, Over is 7-0 in his last seven against American League East teams, and Over is 8-2 in his last 10 at home.

The Red Sox will send out Hector Velazquez for his big-league debut. Velazquez is a veteran of the Mexican League and has been terrific at AAA Pawtucket this season (1.55 ERA, 0.79 WHIP), but this isn't the Mexican League or AAA - this is the big-leagues and Velazquez should get a taste of what Major League hitters are capable of tonight in Oakland.

Over has cashed in six of Boston's last seven road games and six of the last seven meetings between the Red Sox and Athletics.

Pick: Over 9

Yesterday's Picks 2-0
Season to Date: 36-27-3

For more FREE picks and analysis head over to our Free Picks page on Covers Experts.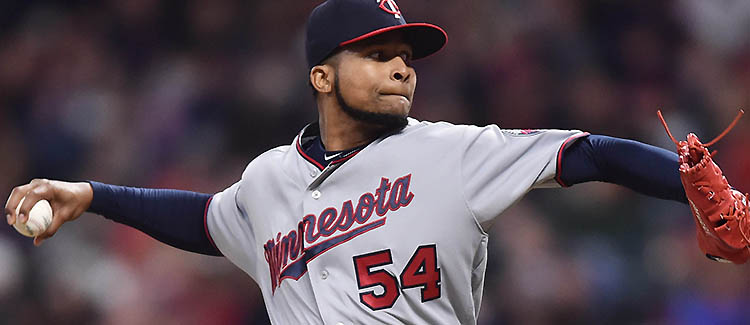 Streaking and Slumping Starting Pitchers

Streaking: Ervin Santana, Minnesota Twins (6-1, 1.50 ERA, $452)

Ervin Santana gets the ball for the Twins today at home in the first game of today's doubleheader between the Colorado Rockies and Minnesota Twins.

Santana has been dynamic this season (6-1, 1.50 ERA, 0.81 WHIP). He had his worst start of the season two outings ago against the Red Sox (six earned runs) and bounced back beautifully with seven innings of two-hit, shutout pitching against the Cleveland Indians.

Santana and the Twins are available this afternoon at -125.

Slumping: Tyler Glasnow, Pittsburgh Pirates (1-3, 7.98 ERA, $251)

Tyler Glasnow had a nice little four-game run at the start of the season where he got some Team Wins despite not pitching very well. That has caught up to him over his last two appearances in which the Pirates have lost both and he owns a lofty 10.38 ERA over 8.2 innings of work.

Glasnow and the Pirates are home underdogs today against the Nationals (+115).

Thursday's Top Trends

* The Minnesota Twins are 1-9 in Santana's last 10 home starts vs. a team with a winning record. -120 today vs. Rockies.
* The Chicago Cubs are 9-1 in Jon Lester's last 10 starts vs. Reds. -200 today @ Wrigley Field.
* The New York Yankees are 8-1 in their last 9 road games. -125 today @ Royals.
* The Boston Red Sox are 9-1 in their last 10 meetings with the Oakland A's. Pick 'Em today in Oakland.

Weather to Keep an Eye On?

The forecast is giving a 45 percent chance of rain with a chance of thunderstorms at Kauffman Stadium tonight at first pitch and things are expected to get worse as the night goes along in Kansas City. Yankees/Royals total: 8.5.

There are some big winds in the forecast today, but only one is going to be helping the hitters and that's at Wrigley Field. 20 mph winds blowing Out to center field will greet the Cubbies and Reds this afternoon. Total: 10.5.

In Motor City, the Tigers are hosting the Orioles and the pitchers will be getting some help from Mother Nature. Winds will be gusting In from right field between 22-25 mph. Total: 10.5.

At Rangers Ballpark its more of the same, as winds will gust around 16-17 miles per hour blowing in from right field as Texas hosts the Phillies in interleague play. Total: 10.

Ump of the Day

Bill Welke: If the home plate umpire today in Pittsburgh is an indication the Over is the play. When Bill Welke is behind the plate runs are scored, 10.4 per game this season. The Over is 7-1 (87.5 percent) in the eight games Welke has been calling balls and strikes in 2017. Since 2015, the Over has cashed in 41 of 60 games behind the plate (68.3 percent). The Washington Nationals hitters in particular have had success with Welke, the Over has cashed the last five games he has had the gear on. The total is currently 9 for the Nats and Pirates in Pittsburgh.

Thursday's Top Consensus

Here are the top side and total play the public like the best, according to our Covers Consensus.